AIRMAX Industrial Ventilation Systems
for a Healthy Work Environment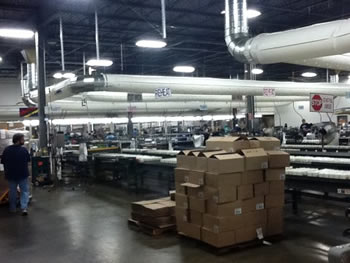 AIRMAX has solved serious air distribution problems in hundreds of large and small facilities who suffer from:

Fumes

Hot & Cold Spots

Humidity

Inefficient Heat Transfer

Particulates

Heat Loss

Dust Drafts

Stratification
The problems listed above are created and intensified by negative pressure inside the building and uncontrolled air migration and circulation. Your facility may need a make up air system, positive pressure or better heat recovery ventilation system. All these problems and many others have been solved with Industrial Ventilation Systems custom engineered, manufactured and installed by AIRMAX. And, in all cases, AIRMAX has provided an additional benefit – huge reduction in energy costs.
When treating your specific problem, AIRMAX analyzes the effect the solution will have on your total facility. We design an air distribution system solution for the problem rather then treating the symptoms.
Control of air pressure and circulation is accomplished with our light-weight polyolefin flexible fabric ducts. Our fabric ducting requires no maintenance, and is easy and far less expensive to install than conventional ventilation systems.
AIRMAX specializes in Industrial air distribution systems that can solve your facilities' special needs. Let us assess your problem, design an air distribution solution, and install your new ventilation system! You'll be pleasantly surprised how cost effective our flexible fabric systems are compared to conventional ventilation systems. Savings of 50% on heating cost with 1-2 year payback is typical.