Learn How AIRMAX Fabric Ducting Solution Works
AIRMAX's unique fabric ducting material provides low-cost, lightweight, fire retardant ducting systems for air distribution and HVAC applications.
Installing the fabric ducting
Installation of Airmax's Fabric Ducting couldn't be easier. With a combination of aircraft cable and S hooks, the fabric ducting can be installed in any type of facility.
Fabric ducting is a perfect solution for facilities with high, open ceiling space and the perfect choice for retrofitting any facility with an air distribution and ventilation system.
The installation time required for fabric ducting is less than half the time required to install conventional metal HVAC systems. This offers a huge savings on the HVAC installation budget. Fabric ducting will reduce energy costs and may help a facility receive LEED certification.
Multiple uses and applications
AIRMAX fabric ducting can be used to distribute and direct a/c air down to employees and work areas. It can be used in conjunction with air conditioners, dust collectors and blowers. The AIRMAX system of fabric ducting and ventilation can be used anywhere air needs to be distributed.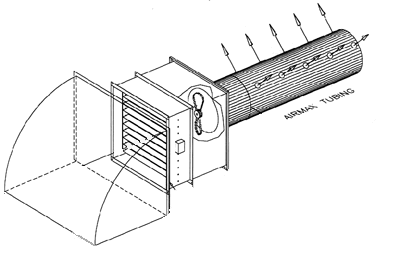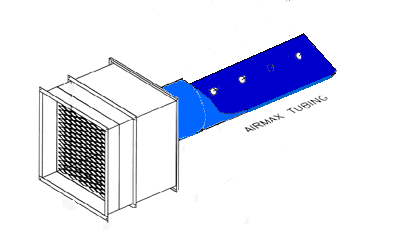 How AIRMAX works in a typical winter application used in a facility with fumes, stratification, negative pressure, draft & stagnation problems:
Typically, air is blown upwards for Winter and down for Summer applications. AIRMAX fabric ducting blows air upwards to mix with hot air trapped in ceiling and forces warm air downward for employee comfort.
Fumes are exhausted at the floor level.
Cool make-up air is brought in at ceiling height and dispersed evenly over a long path through holes punched in the tube at 10 o'clock and 2 o'clock. (Engineering results determine number of holes, size and exact locations.)
More air is brought in than is exhausted, creating a slight positive pressure.
Wasted stratified heat is used to preheat the cool make-up air.
A side benefit is the dramatically reduced amount of energy required to heat your plant. AIRMAX evens the temperature from floor to ceiling and reduces heat loss through the roof.
Air flow is now from the ceiling to the floor, trapping fumes at floor level and forcing them down and toward the production exhausts, keeping heated air where it's needed.
The building is now at a positive pressure, eliminating drafts, and reducing worker discomfort, complaints and illness.
Painted Hoods Available! Hoods can be painted to match the building and preserve the architectural integrity of the facility.