AIRMAX Air Filtration and Ventilation Systems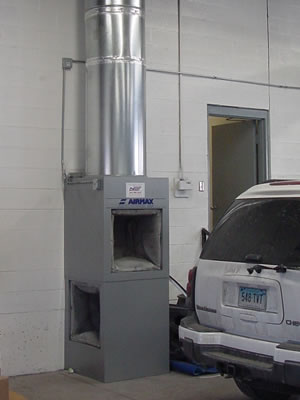 AIRMAX has been helping manufacturers solve air quality concerns for over 30 years.
The AIRMAX Down Draft Filtration system has a filtered intake at floor level to filter and capture airborne particulates in the area and to recover the waste stratified heat at the ceiling while reducing heat loss through the roof.
These units in-take cold air from the floor, filter it, and discharge clean air at ceiling level. A blanket of cold air is now formed on top of the hot stratified air at the ceiling. This process helps to eliminate heat loss through the roof. As the cold air sinks toward the floor, it mixes with and forces the hot air back toward the floor. With a positive air pressure at ceiling level and a negative pressure at floor level, the temperature in the room is soon homogenized to near equal temperature, floor to ceiling.
Airmax Down Draft Filtration Solves These Manufacturing Facility Problems
Cement Dust
Wood Dust
Oil Mist
Bakery Dust
Stone Dust
Paper Dust
Grinding Dust
Overspray
Metal Dust
Plastic Dust
Fiberglass Dust
Body Shop Particulates
Boat Building Particulates
Humidity Problems
Powders
Features of AIRMAX Down Draft Filtration systems:
10 Micron Filtration (more if needed).
Down Draft air flow (Ceiling to floor).
Located at floor level for easy access to filters.
Reusable filters.
Contamination stays at floor level away from lungs.
Control Dust migration.
Eliminate eye problems.
Homogenized temperature floor to ceiling.
Eliminate hot & cold spots.
Lower Humidity.
Reduce energy consumption
Save $$$
AIRMAX Down Draft Filtration systems are available in many sizes.
Sizes available include:
3,000 cfm
6,000 cfm
12,000 cfm
18,000 cfm
30,000 cfm
Portable units are also available and are ideal for facilities like auto body shops, paint shops and product manufacturing.