Common Issues Growing Cannabis that can be solved with AIRMAX AirGrow Filtration Systems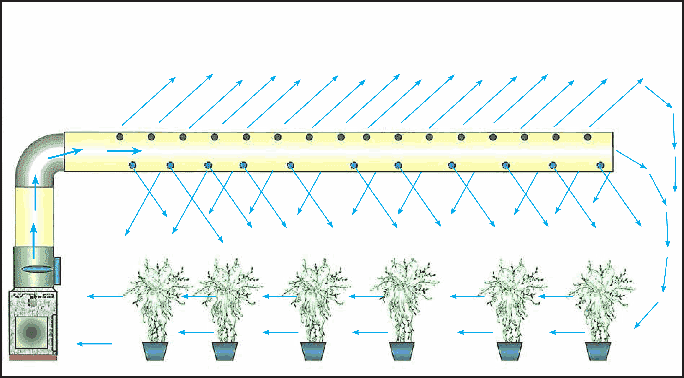 Solve These Common Grow House Problems
Mold – Mildew – Humidity – Hot Spots – Temperature Differential Throughout – Poor Dehumidification Delivery System – Spider Mites – Air Filtration & Quality Concerns – Uncontrolled Air Circulation.
The AIRMAX AirGrow Filtration Advantages
This system has these advantages:
State of the art Merv8 (4) ply large area filtration system
Anti-Fungal unique air delivery system
Specifically design air discharge ports by the manufacturer
Huge gentle controlled air changes
Clean, air constantly blowing over all surface areas evaporating dampness
Controlled air flow wall to wall, top to bottom and end to end
Air moving 24 / 7 over, under & thru the leaves breaking up air stratification
Hot spots are eliminated
Hot, damp, humid areas are soon homogenized to the same temperature
AIRMAX AirGrow brings you to a constantly stable base line for your settings.
OPTION: UV / Advanced Oxidation Plasma consisting of Ionized Hydro-Peroxides
AIRMAX AirGrow solves these grow house problems
Bud Rot
Sometimes the first sign of bud rot is just a few leaves on the buds turning yellow. The bud is rotting at the base of these leaves.
SOLUTION:
Air circulation – you need to constantly reduce the amount of hot humid air and replace the grow space with fresh homogenized filtered air. It's important to make sure there's always plenty of air moving over all the buds and leaves, and through the plant. AIRMAX AirGrow anti-fungal ducting can help with this. It's also important to not let the humidity get too high. Combine the anti-fungal ducting with the AIRMAX AirGrow filters for best control of humidity.
Boron Deficiency
When cannabis plants are over or under-watered, a boron deficiency can happen. The first signs are abnormal or thick growth tips along with brown or yellow spotting on new leaves.
SOLUTION:
Along with providing good nutrients for your soil and adjusting the pH to the correct range, controlling the moisture so the plants receive enough water but not too much water can correct the problem. AIRMAX AirGrow filtration systems can help keep the grow house moisture at the optimum level for systematic watering.